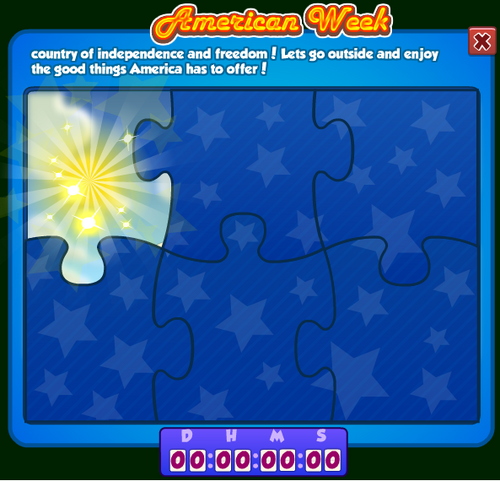 Description:
Edit
The United States: country of independence and freedom! Let's go outside and enjoy the good things America has to offer!
American is a Classic Mission which can be found at the Darryl Corner. It consists of six level which are :
#
Description 
Order
Reward
1
Let's enjoy the beauty of mother nature… by eating something healthy! Oatmeal cookies are healthy, right?

Harvest 15 Oat for the cookies
54 480 
2
The oats is ready. Let's start baking some healthy oatmeal cookies!

Bake 30 Oatmeal Cookies

105 

900 

3
Oh no! A naughty raccoon ran off with the cookie basket and is hiding behind one of those trees! Can you chase it away and get the cookie basket back? We'll need it!

Chase the raccoon away

90 

820 

4
A rose is a rose is a rose. It stands for romance, glory and opulence. Let's harvest some purple roses!

 Harvest 40 Purple Roses

76 

700 

5
Now that the basket is back, let's fill it with white chocolate cookies! This will taste like heaven…

Harvest 5 White Chocolate

Bake 8 White Chocolate Cookies

88 

850 

200 

6
Donuts and cookies belong together like beach and sunshine! So the one thing we still miss, is donuts! Now let's collect some!

Collect 8 Apple Crumb Donuts (you can find them randomly while harvesting Oat and Purple Rose)

Collect 8 Chocolate Frosted Donuts(you can find them randomly while baking Oatmeal Cookies and White Chocolate Cookies)

82 

750 

Final Price
Ad blocker interference detected!
Wikia is a free-to-use site that makes money from advertising. We have a modified experience for viewers using ad blockers

Wikia is not accessible if you've made further modifications. Remove the custom ad blocker rule(s) and the page will load as expected.